We want to help you
TAKE
BACK CONTROL
FOR YOUR SKIN
FOUNDER'S MESSAGE
We started Aesthetic Clinic on our personal experiences dealing with skin issues. We know firsthand the frustration that happens when you can't figure out what is causing a skin issue or what to do about it. That's why we created Aesthetic Clinic, to solve our problems and yours. Although we know skincare can be confusing and frustrating, We are never shy to venture into new procedures to get the best results. Not only do we focus on skin health, but our skin clinic provides exceptional experience and results from clinical experts in a professional environment. We hope Aesthetic Clinic empowers you to take charge of your skin health and achieve your best skin yet.
"It's our goal to make skin care treatments easily accessible to everyone.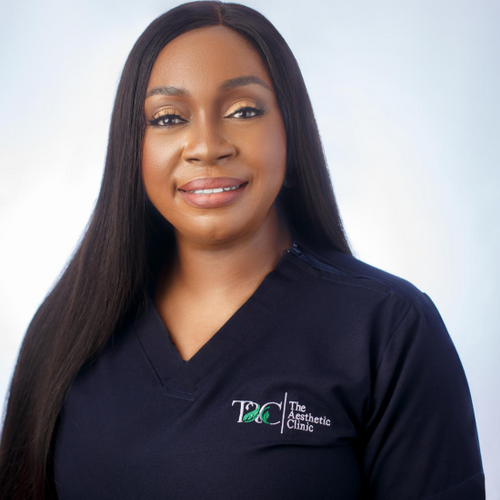 Dr Ifeoma Abajue
CEO, Founder
ABOUT US
The Aesthetic Clinic is a group of clinics in various locations internationally. Our current locations include Lagos, Abuja, Ghana, Montreal, and London with a view to expanding into more countries. We utilize state-of-the-art types of equipment, specialized rooms, and highly skilled personnel who offer safe and evidence-based world-class treatments to our amiable clients. Our Doctors, Nurses, and Aestheticians are highly qualified and trained to provide you with effective, customized clinical and cosmetic solutions to suit your specific needs.
MISSION
To provide excellent results to our clients through innovative aesthetic interventions and solutions. We also want to promote a platform for knowledge exchange and education in the aesthetic community.
VISION
To be a prestigious and result-oriented aesthetic facility. Offering cutting-edge interventions and solutions, especially to people of color.
COMPANY VALUES
TRANSPARENCY: It's your skin, so you should know every detail of our services, treatments, and products.

RELIABILITY: We are dependable, not only for the source of services we provide but also for how we carefully manage the relationships we develop. We believe consistency is key to building trust.

AUTHENTICITY: We stand up for what we believe and openly share our points of view. We respect when others do the same. We can win as a team by fostering open communication with all of our clients.